January 27, 2001
Assassin Comics is UP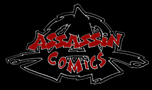 Okay, with a lot of hard work, blood, sweat, tears and a TON of bullets Assassin Comics is up and running. Hurry now to order the first action packed edition!!!
-Sadosed
January 26, 2001
No Gnews is Good Gnews:
Sorry of the Lake of updates, we all been away doing the various things that make us smile.
-Tetsuo
December 15, 2000
Exeter Riddles Translated and Posted:
Finally all those long train rides allowed for something useful at least. With the exception of about 3 or so, the surviving Exeter Riddles are up for your posting pleasure.
-Sadosed
November 30, 2000
Tetsuo does LINIX:
Yeah, yeah yeah . . . not that worthy of the frontpage . . . but screw ya! I know the admin password and you do not.
-Tetsuo
November 6, 2000
TechnoZen Gets a Makeover:
TechnoZen.com returns from the ashes with a new look and a new attitude. Tetsuo moved on but still maintains the site and most of his stuff has been added to the site proper . . . so lets bow our heads down in remembrance of Tetsuo's Hard Drive.
Well for all of you who do not remember the old days, we used to be called Whammo.com. We sold the name to some Australians (well we signed the paperwork and transferred the name - Tetsuo). Then we bought TechnoZen.com, and many, many little sites. We decided that it would be better for a complete redesign with the most popular from each group to be added on the main site. Fear not, places such as Sadosed's Gate will still be around. It will be just that some things are now more accessible from the main site.
(Back to Top)
Join The Fight!
The time has come! As gamers we must stand against those who bleed our society dry. Those at Penny-Arcade made the call to battle, and it is up to those just like us to answer that call. Join NOW before it is too late . . .
(Read More About This) Tzuten/Tetsuo

This was posted here the first day we went live. For people still visited here even though I told them not to...*shrugs*
Seeing that we are still new from the revamp, we really have no news that would be considered 'old' but seeing that you came all this way, here is some 'old news' that you can read.
From Sadosed,
'My armor is too heavy. I need to lose 5-10lbs.'
From Tetsuo,
"Tequila should be outlawed . . ."
From Tzuten,
"Damn, don't you hate when you get the 'Tzuten, has fallen to the ground.' message?"
From the Hitchhiker's Guide to the Galaxy,
"In the beginning the Universe was created. This has made a lot of people very angry and been widely regarded as a bad move."